Career Fairs & Recruiting Events
The University Career Center hosts many events designed to connect Terps directly with employers hiring for internships and full-time opportunities.
Fall 2023 Career & Internship Fair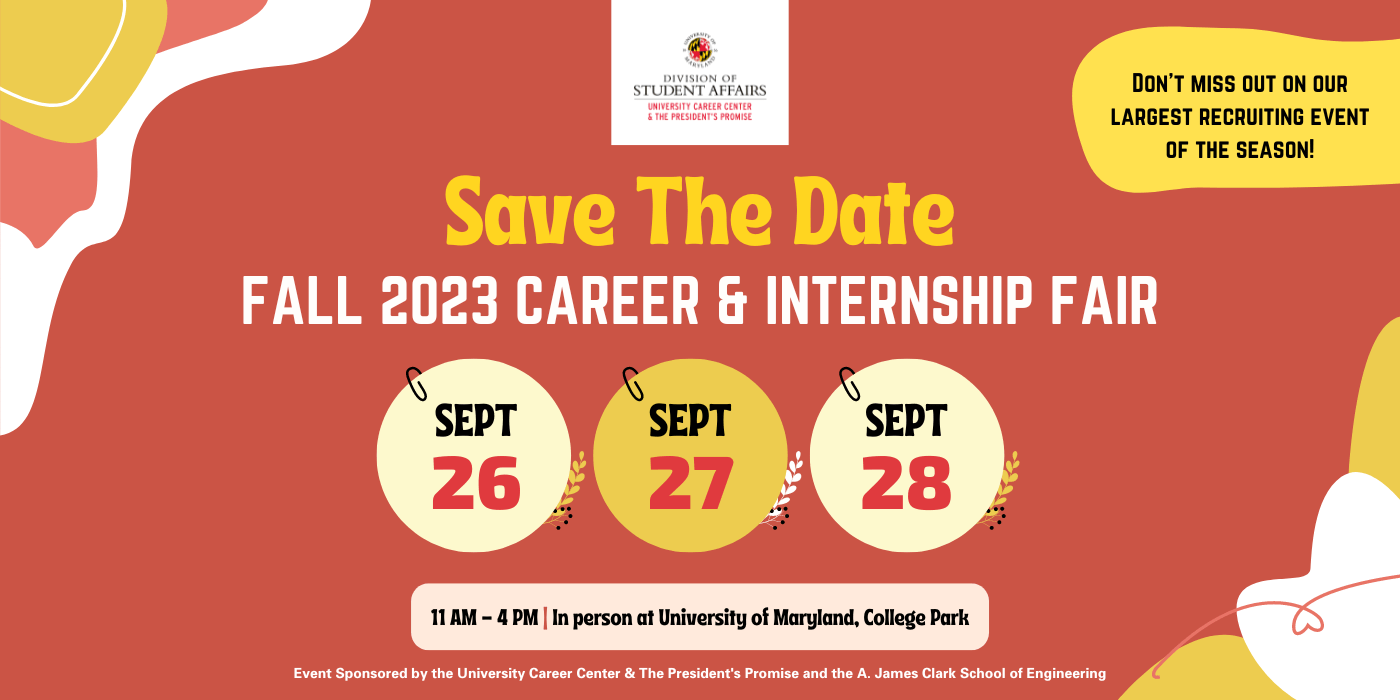 When is the Fall Career Fair?
All UMD students are invited to attend the Fall Career & Internship fair, the largest recruiting event of the semester, September 26-28, 2023!
Learn More Here
Who Will Be There
Typically, over 300 employers, representing most sectors and industries, attend our bi-annual career fairs.
Spring 2023 Employer List
How do I Prepare?
We have plenty of upcoming events and programs to help you do your best at the Career Fair!
Learn More Here
How do I Sign Up?
RSVP easily via Careers4Terps!
Registration opens Summer 2023.
The fair is an excellent opportunity for Terps, Terp-Alum, and employers to connect at our biggest campus recruitment event of the season. With the option to engage in-person and online, this fair is a great way for Terps to find full-time careers and internships with a variety of interesting employers.
What to bring:
Yourself and your friends, classmates
Your UMD-Issued Student ID
Resumes
A Notepad and Pens
Professional or Business Casual Attire is Recommended 
Questions? Contact careerfairs@umd.edu.
Recruiters: Learn more here.
Departmental Campus Career Fairs
April 19th, 3 p.m. - 6 p.m.
Location: Stamp Student Union, Grand Ballroom
The Reed-Yorke Health Professions Advising Office (HPAO) is glad to present the annual Spring Health Professions Fair! HPAO is hosting this unique conference to allow students the opportunity to engage with professional schools and services related to a variety of important topics from admission to health professional programs. This half-day event will feature a variety of academic and professional organizations related to the following health professions: medicine, podiatry, optometry, dentistry, physician assistant, nursing, physical therapy, occupational therapy, pharmacy, and genetic counseling.
Questions? Contact Peggy Wolf, pwolf1@umd.edu.
Networking Events 
More to come in Fall 2023!
Employer Industry Meetups
Industry specific recruiting roundtables for employers and students to connect.
May 4th, 11 a.m. - 2 p.m. 
Location: Stamp Student Union, Atrium Room
The University Career Center & The President's Promise is hosting a Just In Time Meetup. This is an in-person networking event where students can explore paid, part-time roles, internships, or full-time opportunities.
Registration is now OPEN!