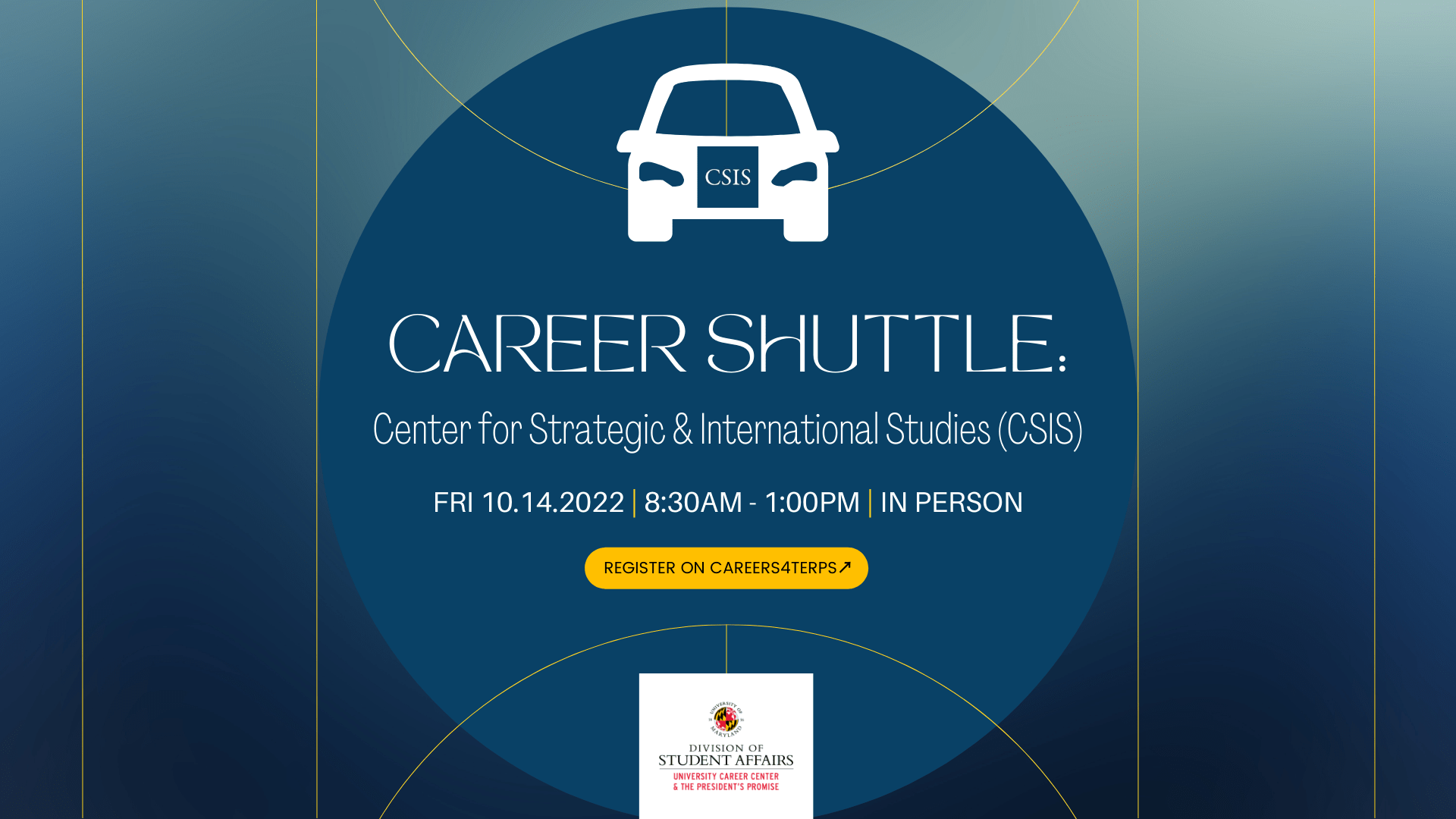 Location: Meet at Hornbake Library
Join us on a Career Shuttle to the Center for Strategic & International Studies (CSIS!). This will be an in-person event; we will travel together by bus to the CSIS offices in downtown Washington, DC.
CSIS is a bipartisan, nonprofit policy research organization (think tank). Learn more about this history of CSIS here.
During our visit, we will learn about internship and career opportunities with CSIS as well as more about the think tank world in general. CSIS offers a robust internship program. Learn more here. More information about full-time roles can be found here.
Students of all majors (undergraduate & graduate) are welcome to attend. Space is limited. Once the bus is full, you will be added to our waiting list and notified if a spot opens up. Please note, due to the limited space and the expected high demand for this trip, we will be enforcing our "no show" policy. If you find you cannot attend this event, please contact Kate Juhl at kjuhl@umd.edu. If you fail to attend this event, we will charge your student account $25 to recover some of our lost costs.
On Friday, October 14 we will meet promptly in the University Career Center (3100 Hornbake Library, South Wing) at 8:30 am. All participants will sign a waiver form. If you are under the age of 18, please notify us ahead of time. We will travel by bus to CSIS in downtown Washington, DC. Our information session will last from roughly 10 am- 12 noon. Depending on traffic, we plan to return to campus around 1 pm.
For additional information about this event: Contact Kate Juhl at kjuhl@umd.edu
--
Please note: UMD is committed to creating an accessible and inclusive environment for all faculty, staff, students, and visitors. If you would like to request accommodations for this event due to a disability, please notify us at least seven (7) days in advance. We will do our best to make arrangements for program access. Please contact the Career Center at 301.314.7225 with your specific request and be sure to include the event title, date, and time.
Event Type: Employer Events
Event Location: Off-Campus, On-Campus
Industry: Government, Policy, Law & International Affairs