Diversity & Identity Support
Embracing diversity and inclusion means learning to appreciate, communicate, and collaborate with others—respecting their differences and commonalities—as well as appreciating your own uniqueness. Discovering the multiple facets that shape your identity helps you see the diversity you represent. Your success, and of those who work with you, depends on each of us being committed to diversity, equity and inclusion. 
Navigating your career path aware of your uniqueness requires reflection and information gathering. The Center is committed to providing support as you explore opportunities and challenges in the context of diversity and inclusion.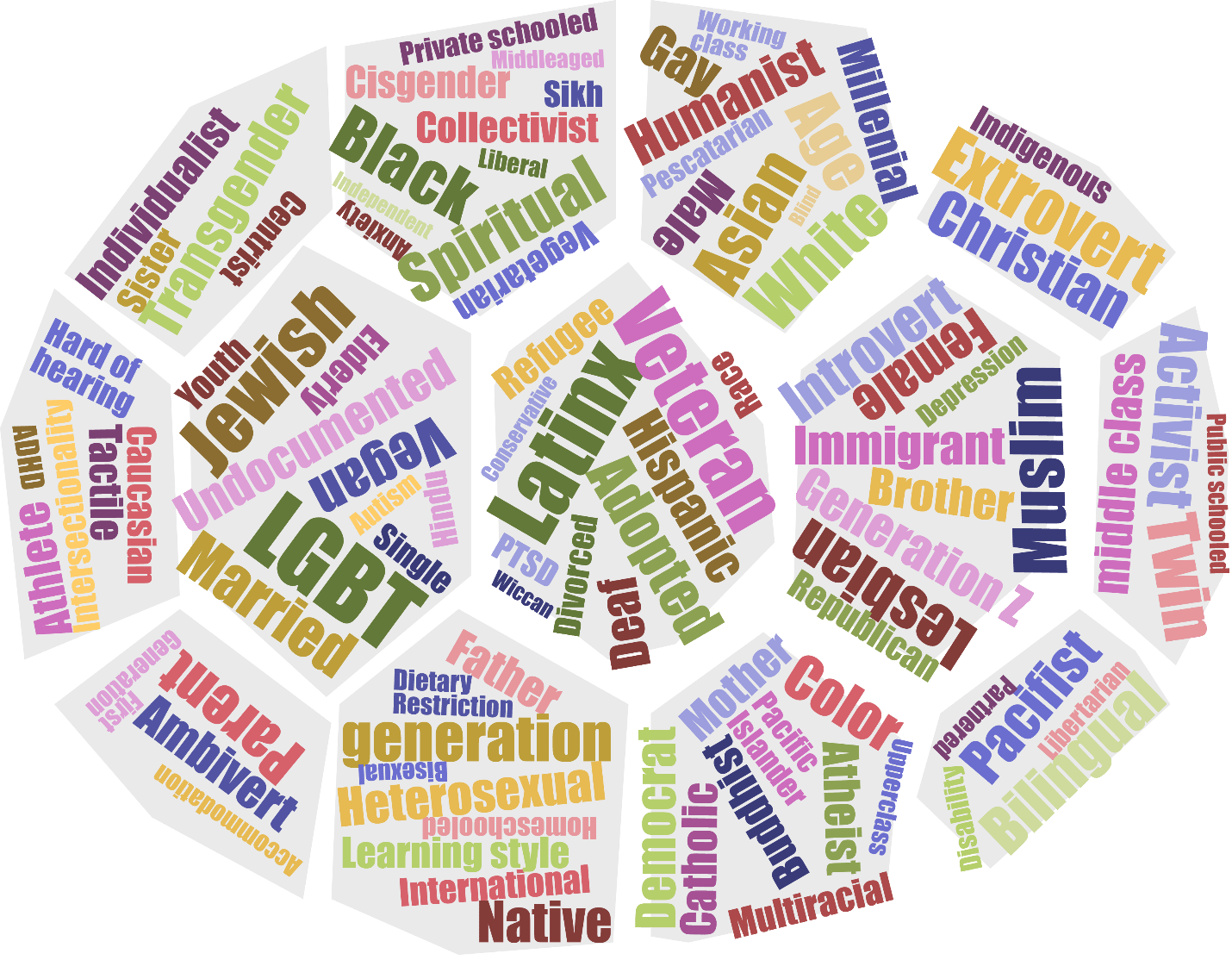 Why Diversity Matters to Employers
Teams composed of members with diverse backgrounds, talents, and perspectives perform better and produce better results. They are more capable of responding to an array of circumstances, drawing upon different skills as situations demand, and comprehending the full complexity of an issue. By valuing everyone, an organization becomes a desirable workplace where people feel a sense of belonging and can be their most productive.
Diversity is also smart business because consumers and clients represent a diverse world. Any business seeking to maximize returns will necessarily design products or services with a diverse group of consumers in mind. To do that effectively, the people who work in an organization should reflect the diversity of the customer base.
Your capacity to work in a diverse environment represents an important consideration for employers. Today's workplace is global, multi-ethnic, and intergenerational. It is composed of people from different backgrounds, experiences, and cultures, representing broad spectra of socio-economic status, ability, sexual orientation, gender identity, religious affiliation, and political leaning.
 
Questions A Student Might Ask to Assess an Organization's Commitment to Diversity, Equity and Inclusion
Content from 2020 NACE article, "Questions Students May Ask to Assess Your Organization's Commitment to DEI"
How does your organization define diversity? What lenses of diversity has your organization made a direct commitment toward?
Does your organization have a chief diversity officer (CDO) or a designated leader to drive DEI and engage internal and external stakeholders? 
What social causes does your organization support?
Does your organization actively support diverse suppliers, contractors, and small businesses?
Has your organization made any formal commitments in support of racial equity?
How does your organization center diversity, equity, inclusion, and belonging?
Does your organization offer any formal employee training around biases, anti-racism, or general DEI?
How has your organization prioritized executive accountability toward DEI advancement?
Does your organization have any affinity groups or committees to support diverse populations? If so, how do these groups contribute to the culture of the organization?
Does your organization complete annual compensation equity analysis?
What resources has your organization provided to its employees in support of COVID-19 and racial injustices?
Identity-Based Career Resources
Myriad identities, skills, experiences and perspectives are welcomed by organizations for operational effectiveness and institutional advancement. It is equally important for you to find the environments that support the intersectionality of your identities, while you gain the ability to successfully manage your future career and life goals. Explore these career resources to support your identities. Meet with a member of the UCC to help you with your career journey.
Diversity Campus Partners  
The Center works in collaboration with other campus offices that provide academic support, help you to develop and expand your awareness of your identities, and advocate for you while teaching you how to navigate the campus climate. The following campus offices can be supportive resources: