Building Your Network
Professional Networking, along with your academic performance and your extracurricular activities, is one of the most important steps to career development. It will help you build a set of relationships that will support you throughout your career. It's best to build your network before you need a job.
85%
of jobs are filled through networking, according to HubSpot
70%
of jobs are never published publicly, according to CNBC
70%
of professionals hired in 2016 had a connection at their company before joining
80%
of professionals consider networking vital to their career success
Dispelling Myths of Networking
Students and early professionals often feel that networking is fake and makes them feel phony. While it comes naturally for some others see it as inauthentic/brown nosing. Focus on learning about other people, the work they do and their interests. Find common interests with others which may or may not be related to the event you're attending.
Benefits of Networking:
Develop long-lasting relationships that can help you throughout your professional career
Share your experiences as a student with others - you have insight to share too; this can be a mutual exchange of information (social capital)
Gain industry-specific and company-specific insight that you can't find online
Learn about opportunities and careers that you may not have thought about
Obtain a reference when you're submitting an internship or job application
Top 8 Ways to Network:
Introduce yourself to classmates and also introduce people in your network to one another who would benefit by knowing each other. This will help you receive similar introductions.
Actively participate in on-campus organizations and professional associations so you can meet people related to your field(s) of interest. Many associations have free or reduced student membership rates. If you don't find an organization that meets your interests, consider starting one.
Reach out to your professors and campus administrators. Make sure your professors know who you are by asking questions and going to their office hours for individual attention.
Network with fellow Terps and Terp alums during career panels, fairs and other events. Alums can help give insight into various industries, provide a source of critique on resumes, cover letters, and mock interviews, and can sometimes even serve as a link to a specific company or industry.
Connect online by creating and remaining active on select professional social platforms such as Terrapins Connect and LinkedIn.
Volunteer your time/skills for an individual, a business, or an organization for a specific project that fits with your career goals or areas of interest.
Connect with your parents' friends and your friends' parents who may have expertise in the field you are interested in and ask for their advice on your career aspirations. And don't forget your relatives, neighbors, coaches, and others. Be sure to share your strengths and skill sets. They might just be your link to your next employer!
Pursue an internship to get your foot in the door with an organization or to connect you with other opportunities.
How to Prepare to Network
Be mindful of what you have to offer (such as your skillset, relevant knowledge, fresh insights) and what you are hoping to gain/learn
Perfect your 30-second elevator pitch
Understand that networking can take many different forms and that opportunities can arise at any moment
If attending a networking event, 

Research the organization(s) and key individuals that will be in attendance
Think of a few icebreaker topics in advance

"This is the first event like this that I've attended. Can you share any thoughts about what to expect?" 
"What lead to your position with xxxxx?" 
"Are you originally from XXXXX or did work bring you here?"
Topics to Discuss When Networking
Ask questions about the other person's experience and background. You can think of this as a mini informational interview.
Networking isn't just to talk about work or your professions. Connect with your potential network on personal interests and shared backgrounds.
If you want to keep in contact with the other person, ask how you can best stay in touch with them. 
I strongly recommend that my peers consult the many resources available through the University Career Center by scheduling an advising appointment, browsing job listings on Careers4Terps, or attending an internship or job fair offered throughout the year, Maryland students can easily take advantage of the University Career Center's excellent resources to find relevant and interesting work experience with high-quality organizations like the Human Rights Campaign.
Using Online Tools for Networking: LinkedIn & Terrapins Connect
Expand your professional network
Create a professional presence online
Post online resume that can advertise experiences
Learn about various industries
Choose a professional photo

Dress neatly and have natural facial expression
Face should take up at least half the picture
Avoid pictures that have too many shadows
No selfies or obvious filters

Write a compelling, concise professional summary

Use the first-person
Synthesize your experiences and accomplishments
Tailor your summary to identify your target audience (hiring managers, recruiters, clients, etc.)

Describe your experiences and educational background

Don't copy and paste your resume bullet points onto your job descriptions
Provide an overview of your role and your biggest accomplishments
Include your major and relevant coursework in your education section

List your relevant skills

Identify valuable skills by looking at job descriptions for positions
Add a mix of both hard and soft skills
If possible, secure endorsements from colleagues for your skills
Ways to Connect with University of Maryland Alumni through LinkedIn
The University of Maryland, College Park Alumni Association (Official) LinkedIn group is an excellent place to meet and connect with fellow Terps. These students and alumni, who are proud of their connection with the University, make up a great starting point when building your LinkedIn network. The group also offers many resources to aid with professional development. Join 32,000+ Terps HERE.
Alumni Tool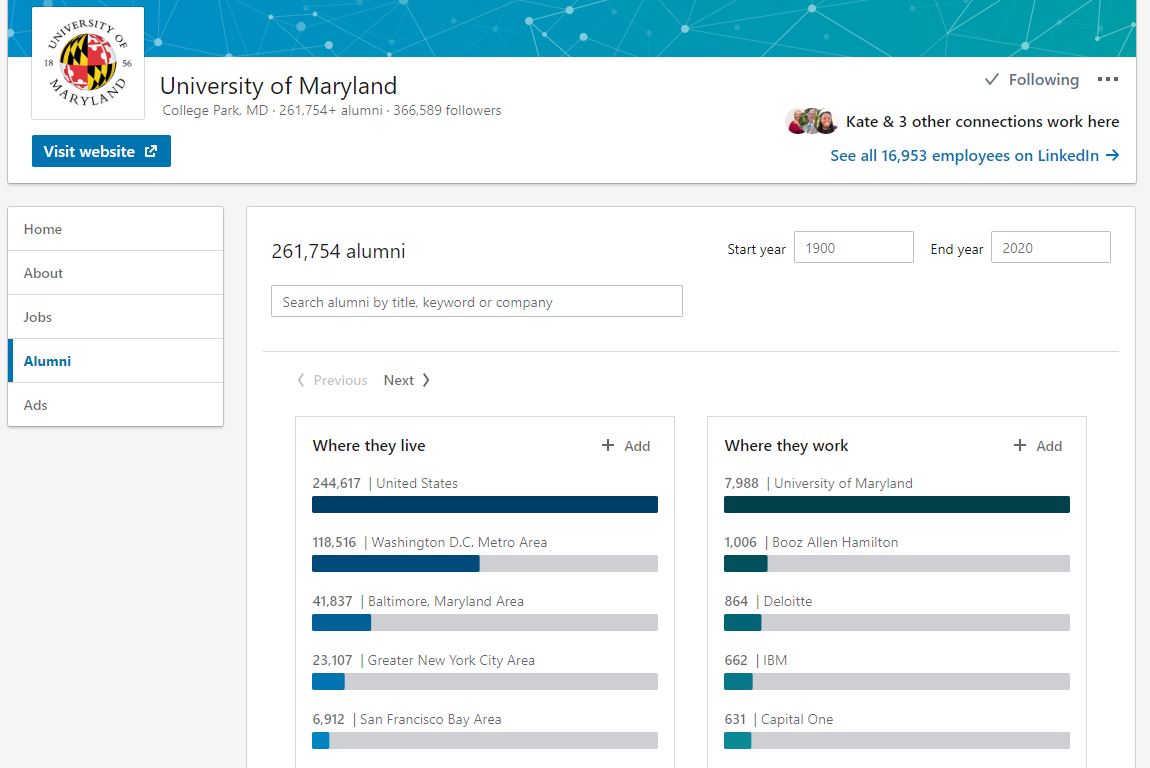 Want to see what other Terps are doing with your major? Use the LinkedIn Alumni Tool to sort through 245,000+ alumni to see where Terps are by major, industry, location, etc.
Terrapins Connect through the UMD Alumni Association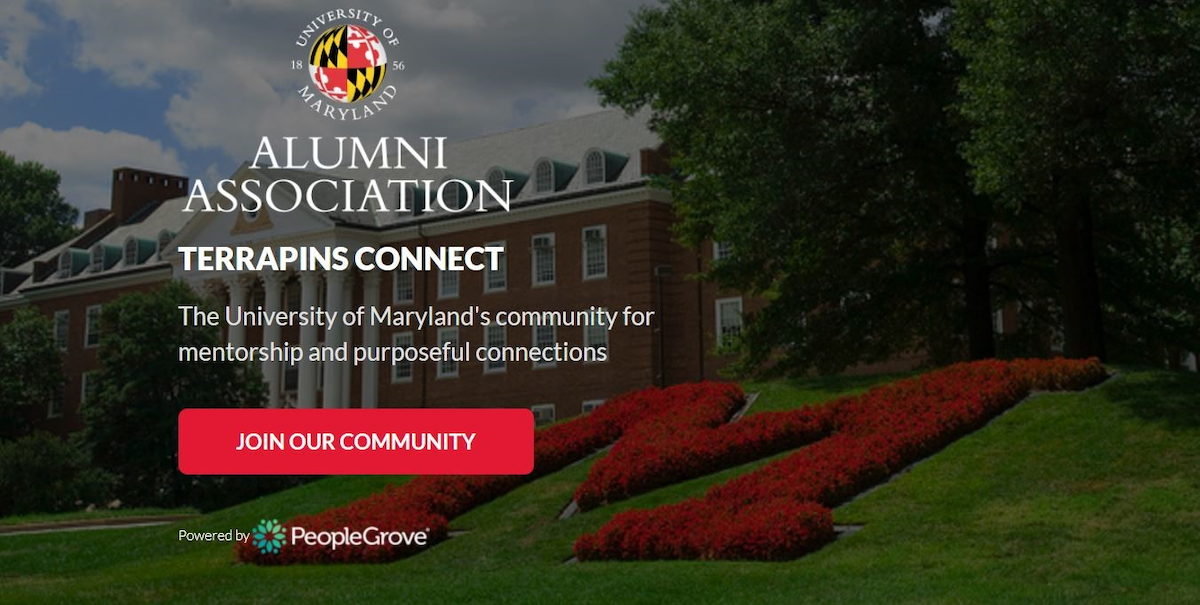 Terrapins Connect is an exclusive platform, connecting UMD students and alumni for mentoring relationships. Search Terrapins Connect to find alumni willing to provide industry advice, interviewing tips, job shadowing and more. You can connect your Terrapins Connect account to LinkedIn, Facebook or build it from scratch.
What to Do with These Alumni & Professional Connections? Set up Informational Interviews!
Once you've identified someone that you want to learn more from, ask them for an informational interview. Informational interviews are structured opportunities for you to learn more in-depth about career paths, industry trends, and potential job opportunities. They can take place in-person or online.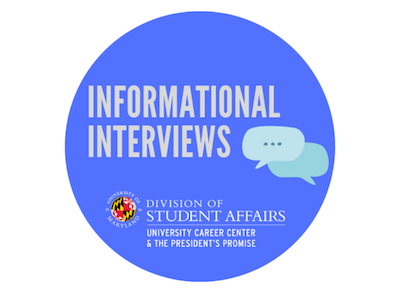 Enroll in our Informational Interviewing Online Module to get more detailed information on how to reach out via email to request an informational interview, how to prepare for the experience, and how to show appreciation after the informational interview.