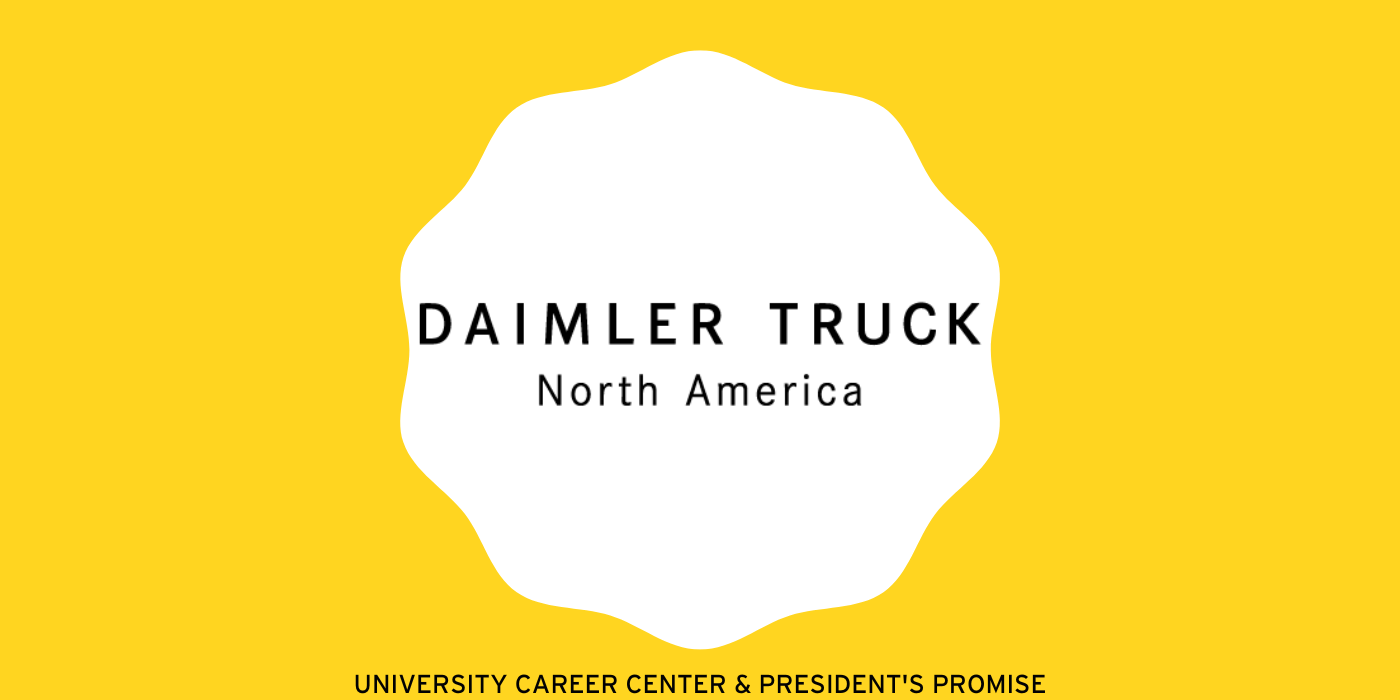 What is Daimler Truck?
Daimler Truck North America (pronounced 'DIME-luhr'), commonly abbreviated as DTNA, is the largest heavy-duty truck manufacturer in North America and a leading provider of comprehensive products and technologies for the commercial transportation industry.
DTNA designs, engineers, and manufactures medium and heavy-duty trucks, school buses, vehicle chassis, and their associated technologies and components under the Freightliner, Western Star, Thomas Built Buses, and Detroit brands.     

How can I participate in the Hackathon?
Register for the hackathon here (it's free!)
Create your profile
In your profile, list your skills, strengths, and specific role(s) you're looking for on a team
You can either:

submit your original idea [based on 'The 9 Problem Statements' (see below), or independent of those] in the Idea Marketplace, or
join a team that has an appealing idea in the marketplace, or
wait for a team to pick you or wait to be matched to a team based on your skillset.   

How should I participate: In-Person or Remotely?
The Hackathon has a hybrid model: you can either participate In-Person at DTNA's Portland, Oregon headquarters or Remotely online.
This is a personal choice: each option has pros and cons. It should be evaluated based on one's circumstances and determined which of the two is more appropriate.
If you are unwilling or unable to travel, regardless of the reason, remote participation would likely be a more appropriate choice.
Those planning on or considering onsite participation are responsible for arranging their own travel and accommodations, as DTNA provides no assistance with this. Additionally, participating in-person provides the competitive atmosphere, camaraderie, and priceless opportunities to learn and to network during the event.      
If you have questions or concerns not addressed here, please contact us at CSG.Hackthon@DaimlerTruck.com.
I don't know if I would be able to participate yet. When's the deadline to sign up?
You can sign up for the Hackathon anytime before 9pm PST on Thursday, November 3, 2022.
As a reminder, the sooner you sign up, the higher chance you have of joining a team of your choice. 
I am 17 years old - can I sign up for this event?
Only persons 18 years and older can participate in the Hackathon.
What is your COVID policy for in-person participation?
With regards to COVID, Daimler Truck North America observes and follows the local health authority advisory and guidelines.
For the in-person portion of this event, the COVID policy would be aligned with that of Multnomah County and can be referenced here: https://www.multco.us/novel-coronavirus-covid-19/covid-19-guidance.
What Are "The 9 Problem Statements"?
The nine problem statements have been identified as the core problems to solve for during this Hackathon.
A team is expected to form their idea around one of these as they create applications that serve the respective target audience(s).
Nevertheless, ideas outside of these nine problem statements can also be submitted. These could also be accepted and granted entry into the Hackathon, provided the ideas still serve target audiences and their objectives. 
The nine problem statements are:  
How can we improve the work life of a driver-on-the-road, based on our capability to get available data from the vehicle today?
How can we provide the best connectivity ecosystem for the Driver, based on the data we have?
How might we improve the Driver-to-Vehicle experience through connected services?
How can we improve the Total Cost of Ownership (TCO) for a vehicle by using a digital app that is connected to the Vehicle-Driver ecosystem?
How can we effectively utilize information within the connectivity ecosystem?
How could we improve road safety by notifying involved users through data within the connectivity ecosystem?
How could we empower the Fleet Manager to provide better assistance to the Driver?
How can we support the target audiences described above in their daily responsibilities with a digital product?
How could we improve vehicle sustainability by utilizing vehicle data in the connectivity ecosystem?
EXAMPLE:
A Vehicle Inspection app: this solution benefits the Driver, Fleet Manager, and results in increased vehicle efficiency.
What are the hardware/software requirements for this event?
There are no specific requirements or restrictions outlined (other than having a working computer capable of connecting to the Internet), but if you have specific concerns or questions, please contact us at CSG.Hackthon@DaimlerTruck.com
For any additional questions, please contact:
CSG Hackathon Team at CSG.Hackathon@DaimlerTruck.com
Note: We are helping to promote this external event as it may be of value to the University community. However, this external event is not affiliated with the Career Center or the University of Maryland.
Event Type: Employer Events
Event Location: Off-Campus
Industry: Technology & Data