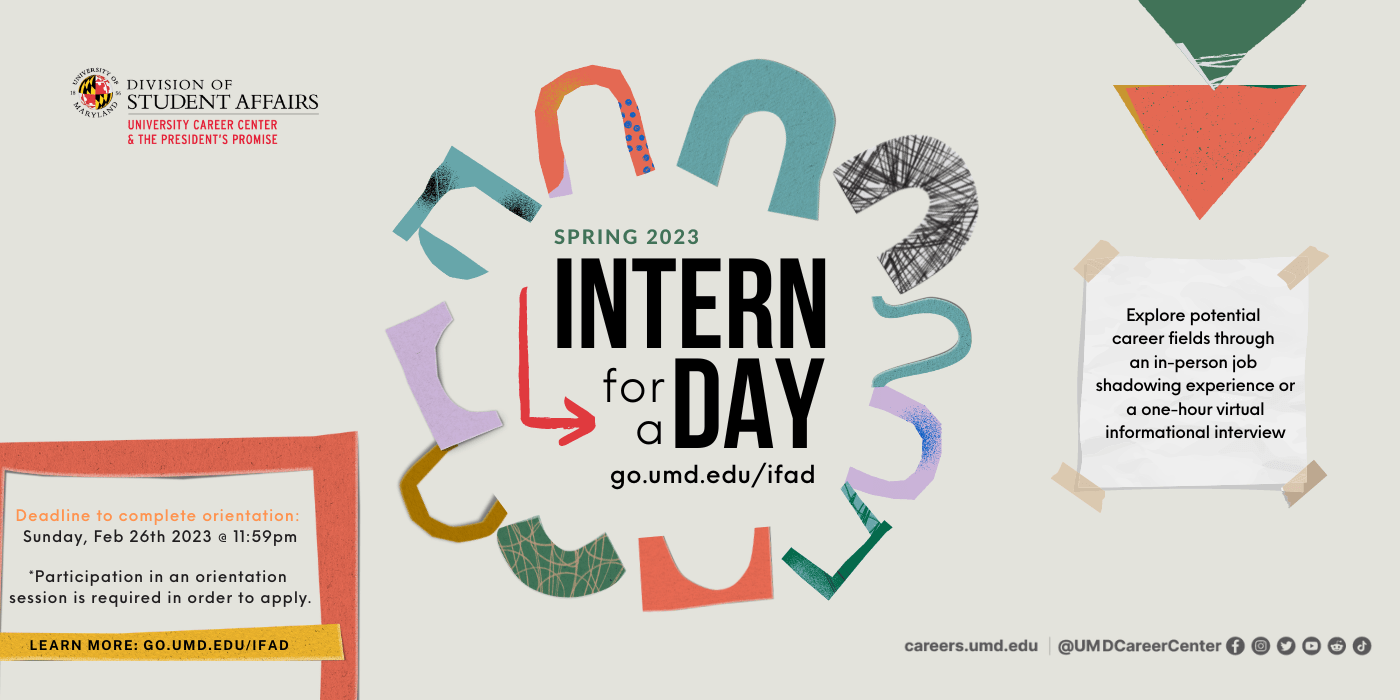 All details for Intern for a Day Spring 2023, including the host list can be found here: go.umd.edu/ifad
The University Career Center's popular Intern for a Day program connects UMD undergraduate students with alumni, parents, and employers for in-person job shadowing or virtual informational interviewing experiences to explore potential career fields. After participating in a mandatory orientation and completing an application, University Career Center staff match you with an employer of interest for a half- or full-day job shadowing experience or a 1-hour virtual informational interview.
What Happens Next?
Enroll in our mandatory online orientation. The orientation opens on the morning of Monday, February 20th and the deadline to complete orientation is Sunday, February 26th @ 11:59pm.
Review the list of professionals available to you and determine who you would like to preference on your application! Applications will be sent on Monday, March 6th for students who completed the mandatory orientation (linked above).
Complete the application by Sunday, March 5th @ 11:59pm and the IFAD team will start matching students with hosts the next day and throughout the week.
Again, all details can be found at go.umd.edu/ifad. Questions not addressed on the website can be addressed to ifad@umd.edu.
Event Type: Employer Events
Event Location: Off-Campus
Industry: Agriculture, Environment & Sustainability, Arts, Communication & Design, Consulting, Finance, Operations and Entrepreneurship, Education, Human Services & NonProfit, Government, Policy, Law & International Affairs, Health and Sciences, Hospitality, Sports & Recreation, Technology & Data