Self Assessment
Unsure where you're heading with choosing a major or career options post-graduation? Students and alumni have free access to FOCUS 2, an online series of career assessments that provide a complete picture of your interests, values, personality, skills and leisure activities. FOCUS 2 also provides suggested job titles and potential career paths based on your results.
Doctoral students and postdocs are encouraged to access ImaginePhD.  More details below.
Getting Started with FOCUS 2:
All University of Maryland students and alumni are eligible for free registration. 
How to Create a Free Account for FOCUS 2:
Login to your Handshake account. Once on the Handshake homepage, click on "Career Center" on the left navigation bar. Then click "Resources" and find FOCUS 2. Once on the FOCUS 2 website, click "Register" and follow instructions to register.
Fill out the registration information in its entirety. 
The access code is goterps.
Create and answer the security questions when prompted. 
Once You Have Set up Your Account - Complete the Assessments:
Complete all 5 subsections under Self Assessment (Work Interest, Values, Personality, Skills, Leisure)
You will be asked a series of questions and you are asked to review them based on the degree in which you would enjoy. There is a star rating system for you to follow.
Once you have completed the self assessment section, you will receive your report. You are encouraged to make an appointment with a career advisor to interpret your results.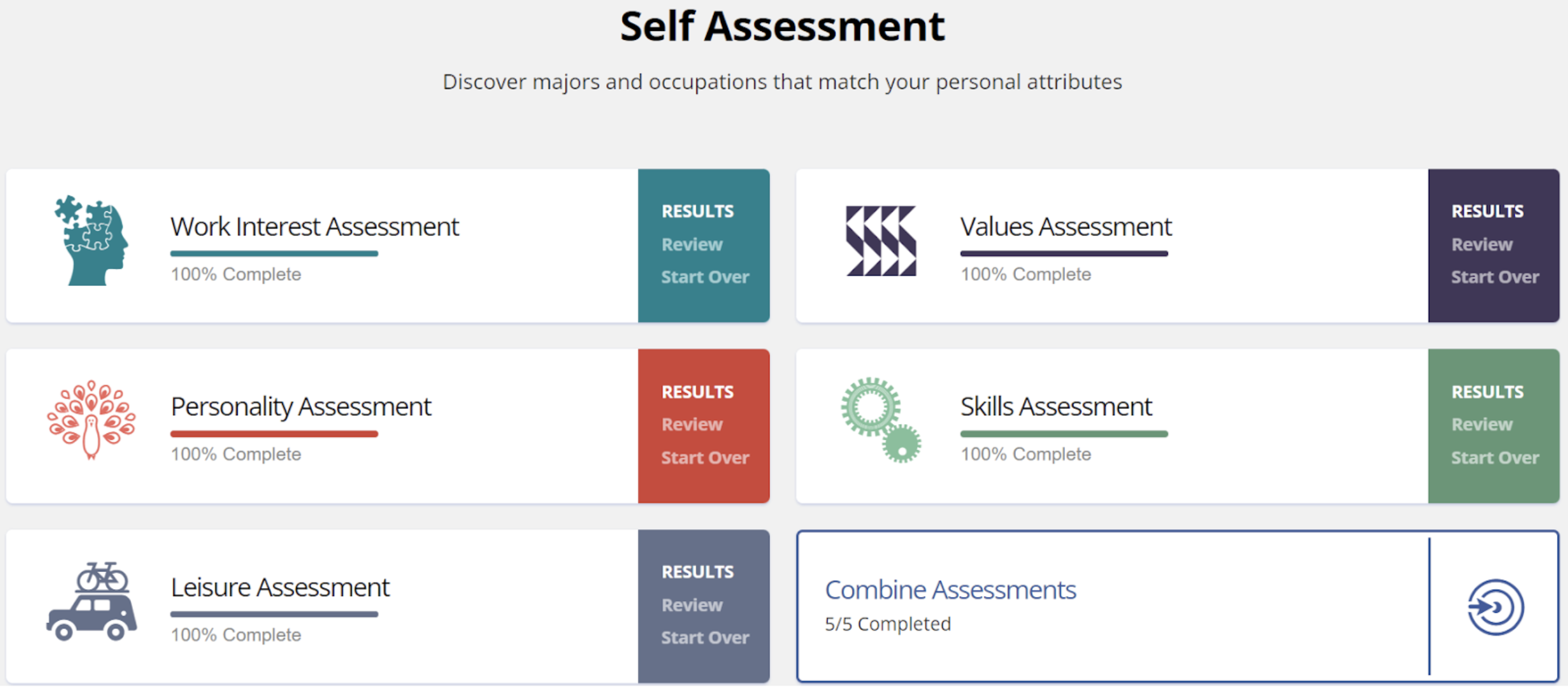 Doctoral Students and Postdocs: ImaginePhD
Doctoral students and postdocs- You can identify or affirm your interests, skills and values by taking the three assessments in ImaginePhD (imaginephd.com). After you complete the assessments, schedule a career appointment to discuss your results.
Once you complete the ImaginePhD values and interests assessments, we recommend you watch the videos in Aurora by Beyond the Professoriate, a resource available to all students at the University of Maryland using your CAS authentication. These videos directly align with the assessments that you took in ImaginePhD. Here, you can watch brief videos of professionals with doctorates who explain how they transitioned to their careers, both in academia and outside of the academy. (NOTE: also on the changing your career page!)