Resume How-To Guide
How to: Resumes — Introduction
How to: Format Your Resume
How to: Improve Your Resume's Content
Quick Resume Tips:
The Center provides many resources to help you create your resume.  As you are writing it, we encourage you to check out the following helpful guides:
Applicant Tracking Systems (ATS)
Many companies use software known as an applicant tracking system (ATS) to identify applicants who either appear qualified or unqualified for the available position. Only those who appear qualified will be moved to the recruiter or hiring manager. The federal government also uses a similar process.
Luckily, there are several techniques you can put in place to try to move past these "resume bots" and get in the hands of the hiring manager.
Utilize Specific Keywords Found in the Job Description
When updating your resume to apply to an opportunity, read through the internship or job description with high attention to detail. Highlight the keywords and qualifications that you have prior experience with through part-time jobs, internships, major class projects, student organization involvement, military experience, and more. You should then incorporate this language into your resume.
EXAMPLE: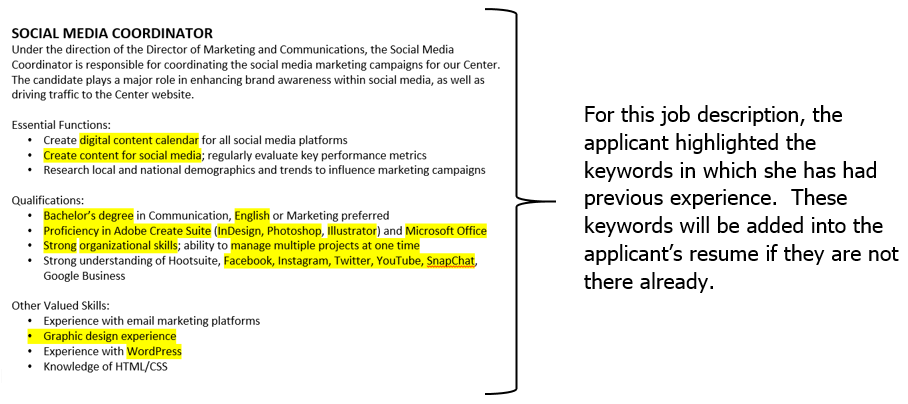 Other Considerations to "Beat the Bots" - Applicant Tracking Systems
Use both long-form and acronym versions of keywords (e.g. User Experience (UX) for maximum searchability
Avoid tables or columns on your resume as they may cause major parsing errors
Use traditional resume fonts like Helvetica or Georgia
Avoid headers or footers as the information may get lost or cause a parsing error
Use mostly standard resume section headings (i.e. Work Experience; Design Experience) instead of being cute or clever (i.e. Where I've Been)
Save your file as a .docx if possible. PDF is relatively okay, too!
Other tips on how to get past ATS, check out this article through Firsthand: 4 Tips for Beating the Resume Bots
CVs:
Graduate Curriculum Vitae (CV) sample

If you are a Master's student at the University of Maryland, click here for an example.
If you are a doctoral student at the University of Maryland, please enroll in Doctoral Career Navigator within Open Catalog. Doctoral Career Navigator is a free self-paced online course in UMD's ELMS-Canvas platform. It contains 13 modules of sample job application packets, career-related videos, worksheets, and links to relevant resources for all UMD doctoral students and postdocs.