Career Fairs & Industry Events
The University of Maryland welcomes your organization to engage our talented Terps in the ways that best meet your recruiting goals. Review the upcoming opportunities available and reach out to us at ucc-recruiting@umd.edu. We look forward to helping you.
Fall 2023 Career & Internship Fair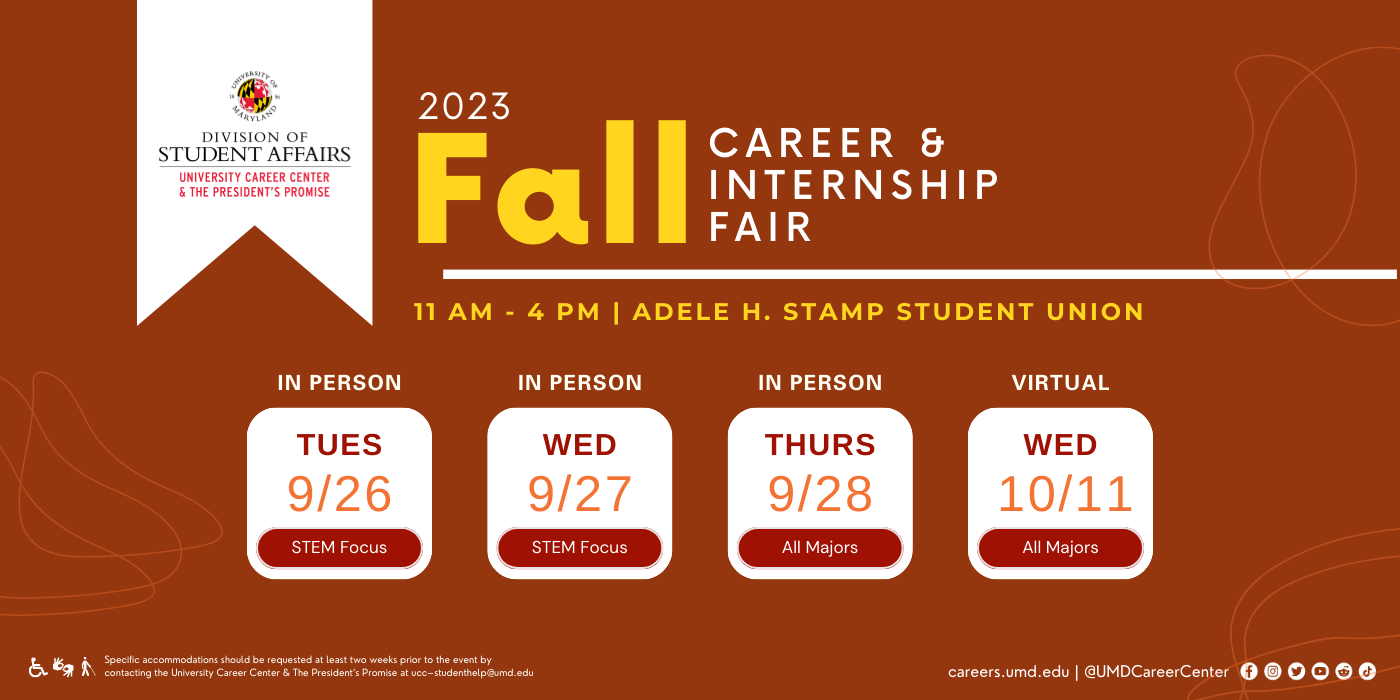 Our Fall 2023 Career & Internship Fair will take place over the course of 4 days:
In person on Tuesday, September 26, Wednesday, September 27, and Thursday, September 28
Virtually on Wednesday, October 11, 2023 
​​​​​​​Registration is now open. We ask that companies register below by Friday, September 15, 2023.
Departmental Campus Career Fairs
Networking Events
Check back soon for an updated calendar of networking events for the fall 2023 semester!
September 12, 2023, 5 p.m. - 8 p.m.

Location: Stamp Student Union 

Employers and UMD alumni working in the fields of applied economic research, government, consulting, policy analysis, financial services/wealth management, and other related industries are welcome to participate. This recruiting and networking event offers an excellent opportunity to interact with over 200 talented students, even if you are not actively recruiting.

Additional details: Visit the event website
Recruiters: Registration is open in Handshake.
Date: September 27, 2023 | 5:00 p.m. - 7:00 p.m.
Location: Stamp Student Union, Atrium

The University Career Center & The President's Promise is excited to collaborate with the Student Success Leadership Council to host the SUCCESS HOUR Diversity Networking Event. 
This event has proven to be an excellent opportunity to network with talented students of Black, Latinx, and other racially diverse identities who are exploring career opportunities with organizations in a range of industries.  Please join us to share information about your industry, build brand awareness for your organization, share information about your organization's commitment to diversity, equity, and inclusion, and identify potential candidates for current and future positions.

Registration Information:

Employers Registered for the Fall Career & Internship Fair 2023 - Complimentary

Corporate and Federal Government Organizations - $200

Nonprofit, State & Local Government, Start-Up Organizations - $100

Space is limited so click this link NOW to register through Handshake: SUCCESS HOUR Diversity Networking Event Spring 2023 Registration 

 

Questions: Contact: Lydia Woods - lwoods13@umd.edu and Pamela Allen - pallen@umd.edu
Employer Industry Meetup Series
The University of Maryland (UMD) Career Center hosts Industry Meetups throughout the semester. UMD's student body encompasses students from 50 states and 116 countries and includes 102 undergraduate majors, 115 master's programs, and 84 doctoral programs. Our meetups are a great opportunity to connect in-person with and recruit prospective, skilled, and diverse candidates to empower your organization.