2023 Maryland Metropolitan Education Expo
The Maryland Metropolitan Education Expo is a one day recruiting event bringing together school systems and organizations to network with and recruit talented applicants in the field of education. University of Maryland students and alumni, in addition to, highly qualified applicants from local colleges/universities interested in the field of education are invited to attend.
Registration is Now Open!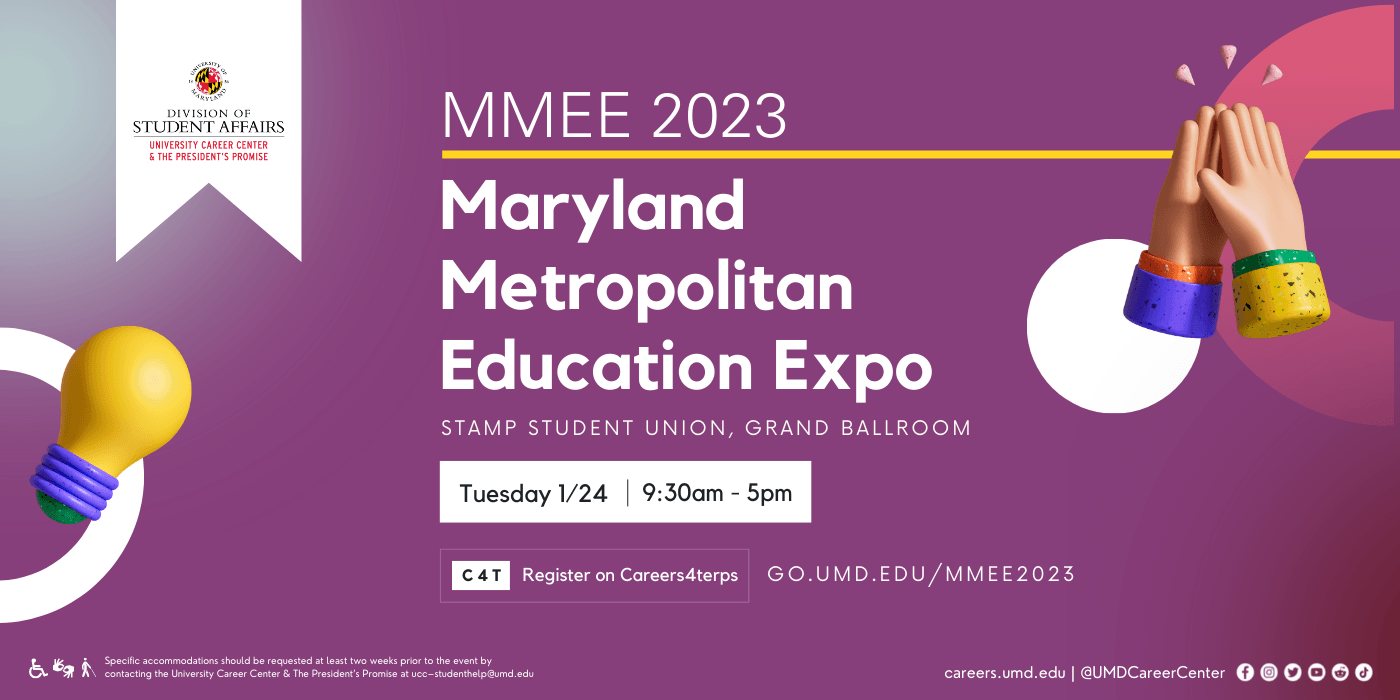 Overview
Date: Tuesday, January 24, 2023
Time: 9:30 a.m. - 5:00 p.m.
Location: Stamp Student Union, Grand Ballroom
MMEE is comprised of two parts:
9:30 a.m. - 12:00 p.m.: Career Fair 

The Expo begins with an opportunity for candidates to meet and network with school recruiters to learn more about school systems and organizations.

1:00 p.m. - 5:00 p.m.: On-Site Screening Interviews

The Expo provides school systems and organizations the opportunity to interview candidates for anticipated vacancies. Organizations not planning to conduct interviews will have the option of participating only in the Career fair portion of the event. 
8:30 a.m. - 9:30 a.m.: Employer Arrival and Setup
9:30 a.m. - 12:00 p.m.:  Career Fair - Networking
12:00 p.m. - 1:00 p.m.: Lunch Break
1:00 p.m. - 5:00 p.m.: On-Site Interviews
Career Fair + On-Site Interviews:
School Systems: $300

NonProfit Organizations (Summer camps, etc.): $150
Registration package includes 1 table and 2 representatives; for interviews it would allow for 2 interview schedules (8 students/schedule).
Additional tables are available for purchase on the registration form for $150 each.
Friday, January 13, 2023: 

Registration deadline (to be included in print materials)

Friday, January 13, 2023: 

Payment and Cancellation deadlines:
*All organizations may sign up candidates for interviews on the day of the event. However, we do provide early access to review and select UMD candidates for interviews in advance of the event.

School systems and organizations interested in hosting on-site interviews can request interview schedules on the Expo registration form. Once the registration is complete, interview schedules will be created based on the number requested. Registered school systems and organizations will receive an MMEE On-Campus Interview schedule confirmation email with instructions on how to review candidate applications within our Careers4Terps system.
Students will begin applying to school systems via the Careers4Terps system on Sunday, January 1, 2023, so be sure to register for the Expo prior to that date for best exposure to candidates. Beginning on Wednesday, January 12 school systems and organizations will be able to review the applications in Careers4Terps and invite the most qualified candidates to interview during the Expo.  
Monday, November 28

: 

Employer registration

Friday, January 6

: 

Recommended deadline to post positions for pre-interview screening

Monday, December 5 - Wednesday, January 11

: 

Students apply to job postings in Careers4Terps

Thursday, January 12

: 

Resume packets sent to School Systems/Nonprofits for review 

Tuesday, January 16

: 

School Systems/Nonprofits submit candidate selections - invitations to sign up for interviews

Tuesday, January 17 - Thursday, January 19

: 

Invited UMD students sign up for interview time-slots in Careers4Terps

Friday, January 20

: 

Final interview schedules sent

Tuesday, January 24

: 

MMEE Career Fair and Virtual Interviews
MMEE Sponsorship
Interested in becoming a 2023 MMEE Fair sponsor?
*Sponsorship is in addition to the organization's registration fee
Event Sponsorship: $500
Opportunity for prime booth location at the fair

Opportunity for UCC to provide enhanced signage and balloons at your fair booth for the duration of the fair

Opportunity to include corporate logo in sponsor section of fair website

Opportunity to be recognized as a sponsor on signage throughout student/alumni and employer registration areas during the fair

Opportunity to include corporate logo in sponsor section of printed fair booklet

Opportunity to participate in a Fair Preparation event (workshop or resume reviews)
Select one of the sponsorship levels during the career fair registration process and contact Allynn Powell at acpowell@umd.edu or 301.314.7237, to complete sponsorship forms.
Contact Names, Questions?
Fair Logistics:, ucc-recruiting@umd.edu, 301.314.7225
Employer and On-Site Interviews:Teniqua Coates-Singh, 301.405-2780
Payment Information: Michael Martucci, mmartucc@umd.edu or 301.314.7238
--
Co-sponsored with the University of Maryland's College of Education